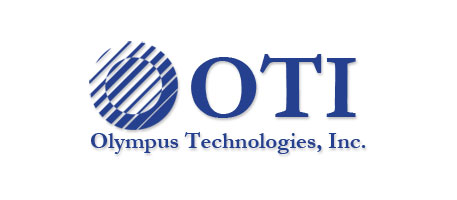 Olympus Technologies, Inc. manufacture Anaerobic Digester Equipment including the following products:
Digester Covers - Fixed, Floating Gas Holder and Buoyant types.
Digester Mixers - Mechanical type mixers mounted externally or on the digester cover.
Digester Accessories - Heat Exchangers and Boilers
For more information please contact us or visit their website at www.oti.cc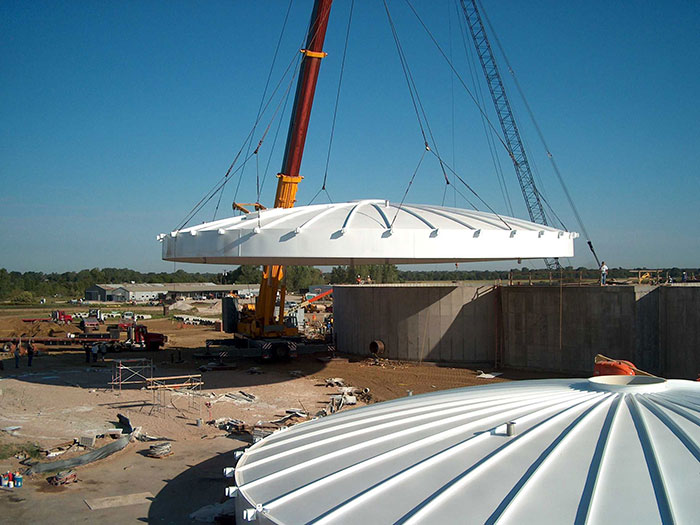 Fixed Digester Cover
EZup™ design reduces field erection costs due to the pre-welded components shipped from the fabrication facility.
27.4m (90') dia fixed in photo was assembled on the ground and lifted into place in one piece.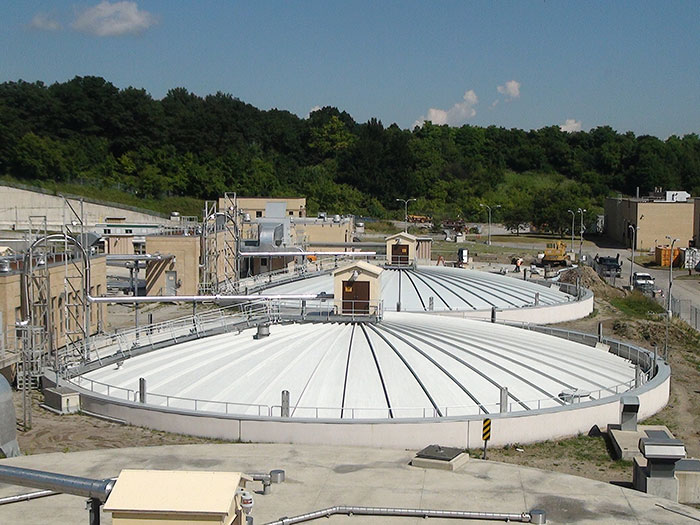 Floating Gas Holder Cover
Two (2) 33.5m dia floating gas holder covers installed in Ontario, Canada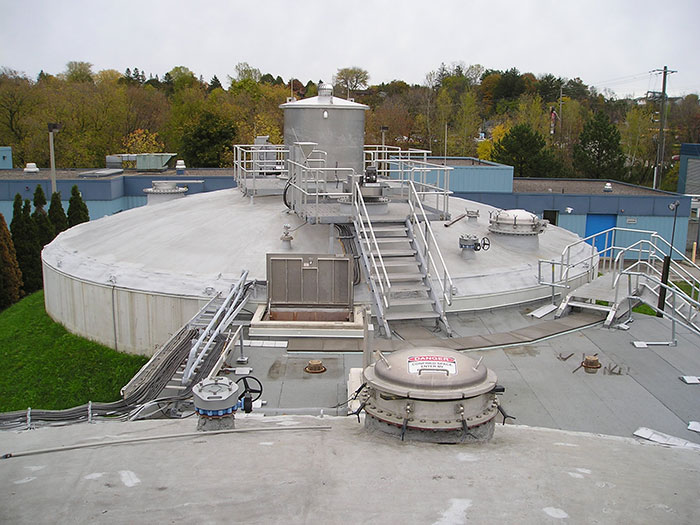 Fixed digester cover with mixers.
Fixed digester cover with OTI draft tube mixers installed on the cover. This installation is in Ontario, Canada and note the foam insulation applied to the top of the cover by the customer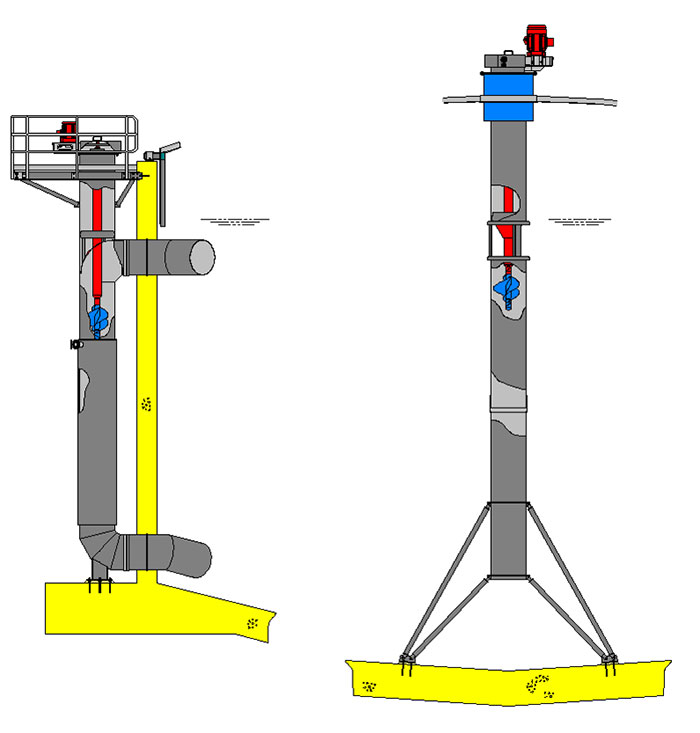 Draft tube mixer configurations
On the left side of this graphic is an external draft tube mixer. The inlet and outlet pipes penetrate the wall of the digester tank.
On the right side of the graphic is a mixer supported from the digester cover.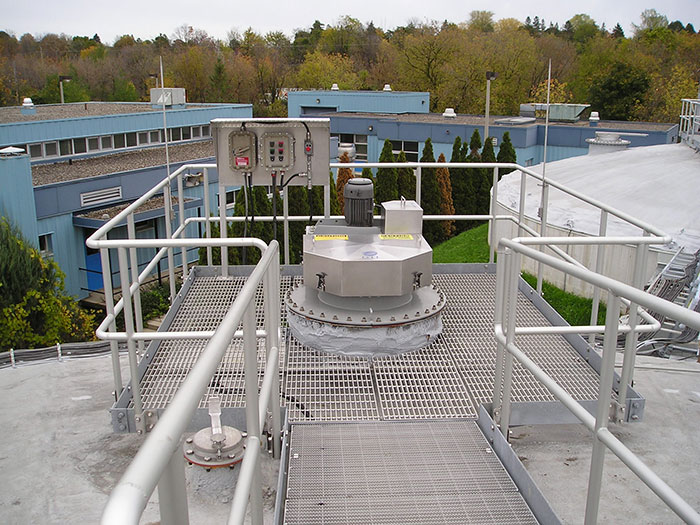 OTI Mixer Drive
The mixers feature a mechanical seal, non-ragging impeller and a simple belt drive. The stainless steel guard houses the belt drive and easy to adjust belt tensioning system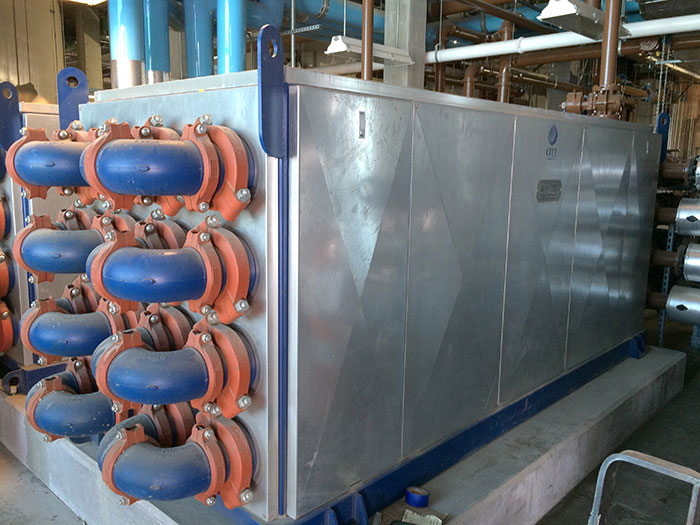 OTI Tube in Tube Heat Exchangers
Tube in Tube heat exchangers available in insulated enclosures. They feature removable pipe bends to facilitate easy cleaning of the sludge piping.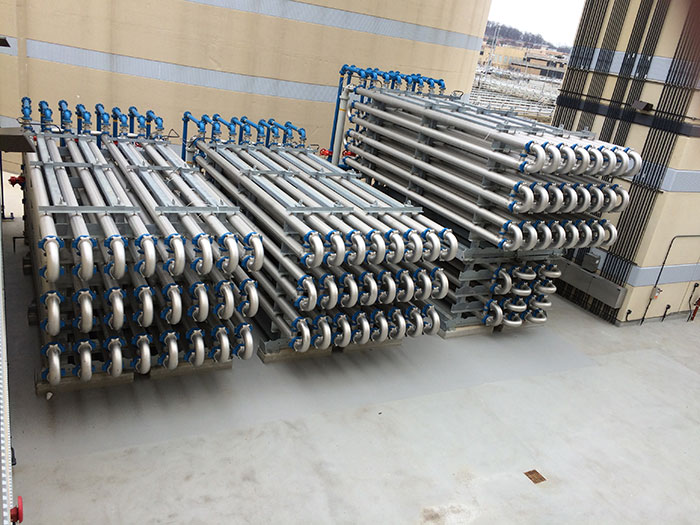 Stainless Steel Heat Exchangers
This large installation of sludge heat exchangers was manufactured from stainless steel.